2022-08-23. Nyland, Sweden. Stringo, the original and world's most loved vehicle moving solution, is delighted to see one of their US based value add partners, Specialty Equipment Market Association (SEMA), opening their new 4,200 m² facility recently, a space devoted to the innovations and best in class research that the aftermarket sector produces. SEMA Garage in Detroit is the first-ever research facility dedicated to testing and understanding how the aftermarket is impacted and can successfully work with Advanced Driver Assistance Systems (ADAS).
Located in Plymouth, Michigan—just 48 km from Detroit—the SEMA Garage Detroit features a large ADAS technology center, an installation center and will expand to include a four-wheel chassis dyno lab, and another dyno lab capable of testing diesel and gasoline tailpipe emissions. Like the high-tech SEMA Garage in Diamond Bar, California, the Detroit facility will give aftermarket parts manufacturers access to sophisticated resources that are typically accessible only to large-scale manufacturers. Stringos, with their ability to safely and efficiently move vehicles, are used throughout the facility and were prominent at the grand opening. The Stringo US team in attendance with a large crowd of invited guests at the opening, showing support for this groundbreaking facility.

"The SEMA Garage Detroit is a game changer in helping aftermarket manufacturers develop products for today's sophisticated automobiles," said Ben Kaminsky, SEMA Garage Detroit general manager. "We will be collaborating with automakers, suppliers and key players in the industry to conduct some groundbreaking research. We are really going to be able to take product development and testing capabilities to a whole new level."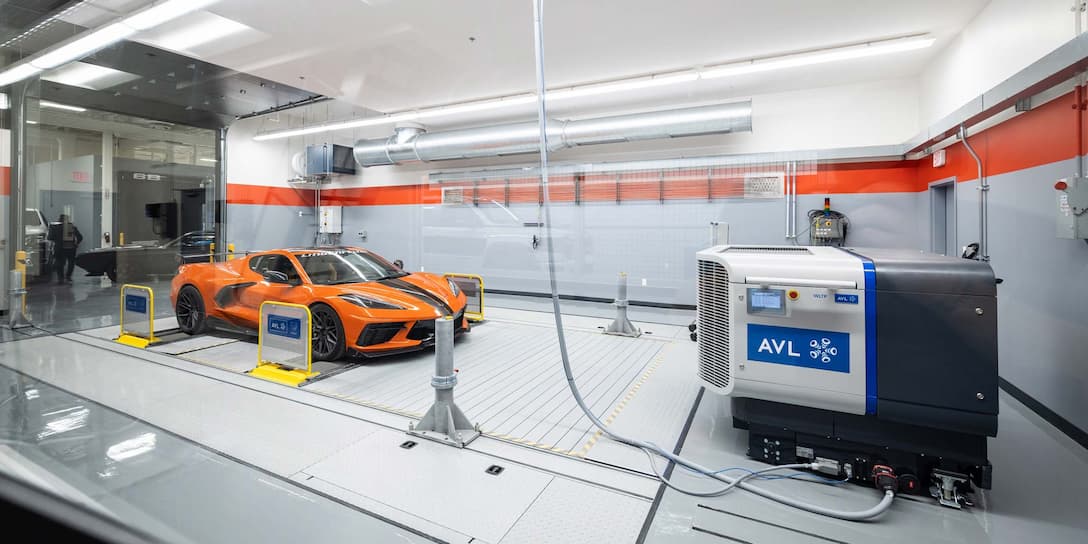 "We're overjoyed for Ben and the team, they're such disruptors and game changers in the testing space and that push for automotive production innovation is so necessary, now more than ever," stated Nina Thelin, CEO of Stringo on the SEMA Garage in Detroit. "We feel so grateful to have them as a value-add customer, one that we can work with to demonstrate the need for vehicle moving solutions on a safety level as well as testing deployment efficiency," she added with Jeff Barr, Stringo National Account Manager, concurring. "They're a joy to work with and I'm looking forward to growing our cooperation and helping their mission."
Want to read more?
Read more about SEMA Garage:
https://www.semagarage.com/
Read more about Stringo's offering to testing customers and others: https://articles.stringo.com/vehicle-mover

About Stringo
Stringo is a unique company, the world's most loved vehicle moving solution based in the heart of the High Coast, Sweden. Stringos have been developed entirely in-house for 30 years and today deliver vehicle movers to every corner of the globe. Stringo is the only company with total focus only on developing vehicle movers and the entire production process is adapted to manufacturing Stringos and nothing else. This makes the company knowledgeable, proud and very passionate. The company vision is to moving cars ergonomically, easily and safely.
For Media Inquiries, Contact:
Sam Coleman
Stringo Chief Marketing Officer
sam.coleman@stringo.se